Certified Siding, Fascia & Eavestrough specialists in Brampton, Ontario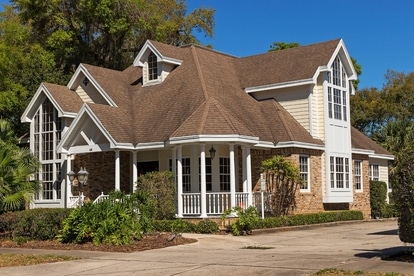 A house is one of your most significant financial investments. As with every other kind of financial investment, you wish to take excellent care of it. Taking care of and upgrading your home can help protect its value so that you can make your money back when you decide to resell it.
Taking care of your home and taking care of any imperfections can help secure it from more damages. That is specifically important when you are located in an environment with extreme changes in climate and where strong wind, heavy rainfall and exhausting summer seasons are not unusual.
Outside siding is what safeguards your home from the negative impacts of the weather and supplies insulation, keeping your home cozy, dry and energy proficient. There might be many factors for replacing it. Perhaps you wish to enhance the aesthetic appearance of your house. Perhaps you have noticed breaking, peeling, or, even worse, decaying on your outside. Perhaps you feel that your current siding is simply not serving its objective successfully anymore.
Whatever the justification, you have come to the ideal place. Our local licensed and insured contractors are ready to assist you with high quality and budget-friendly siding replacement services. All you need to do is call us at this time, and we will schedule a free estimate and assessment that suits your busy schedule.
Options for when you replace your house siding
Putting up beautiful and long lasting siding is one of the most useful approaches to add value and care for your home. It is frequently advised by real estate representatives to update the siding prior to putting your house on the marketplace as it provides aesthetic appeal and entirely refreshes the property's outside. Top quality and expertly installed siding products likewise secure it from temperature extremes and they can last for years without diminishing or losing functionality.
One of the most exciting parts of selecting your brand-new siding is the wide array of color tones, designs and products offered. Vertical and horizontal planks, shingles, sheets, any shade and surface that you can dream of – every property owner will find something that makes the style declaration they want. 
However, if at any point you find yourself lost amongst each of the choices, our helpful team can help you choose one that best suits your style, budget plan and home.
Siding choices for your residential or commercial property consist of:
Vinyl
Cedar
Treated wood
Aluminum
Fiber cement
Indicators your exterior siding needs to be replaced or repaired
We are frequently asked about how we can recognize if siding needs to be changed or upgraded. Despite the fact that observing damages early on demands comprehensive knowledge, here is a list of caution signs that indicate that you must consider switching out your siding:.
Decaying or contorting
Bubbles below the surface
Broken or loose boards
Splits and holes
Fungi, mold or mildew on the outside of your home
Siding is diminishing quicker and needs more frequent painting
Flaking paint and loose wallpaper inside your house

Replacing vs. repairing damaged siding
The siding that shields the outside of your home not just helps keep your home looking excellent, it aids to secure it from the elements. However, over time the siding might become harmed, needing to be repaired or upgraded. Whether you choose siding repair or siding replacement depends largely on what kind of siding it is that you possess, and what the level of damage is.
Vinyl
Vinyl siding is a great looking alternative to wood products. It does not need painting or much upkeep past the occasional hosing off. However, it is relatively flimsy and fragile, so any kind of impact on the siding can result in a fissure. If this occurs, there truly isn't any sort of means to repair the board; it needs to be replaced.
The bright side is that provided the rest of the vinyl siding is in good shape, you can carry out siding replacement of the affected boards by unhooking them from where they snap in, and nailing a brand-new board into place, while leaving the rest of the boards alone.
Cedar & wood
There are 2 types of issues that can accompany cedar shingles and real wood siding. The very first is gouges that can be marked into the wood by a pressure cleaner, hail stones, and other types of force. The second is rot triggered by excessive moisture damages over the years. If your siding has been gashed, it can be repaired either by sanding it down and painting or staining it, or by filling much deeper gouges with outdoor grade spackling, then priming and painting.
If the siding has already started to rot, the rotting rows need to be upgraded. It is not essential to change all the siding if just a few rows are rotting, except if you intend to attempt putting up a brand-new material.
Slate asbestos
If you have much older siding that appears to be slate, this is most likely asbestos siding. The bright side is that this siding stands up very well. The bad news is that you can not disturb it without having trained experts at your side to encapsulate and eliminate it for you. If it is not falling apart, government standards advise leaving it alone or painting it. If it is falling apart, it needs to be changed by a professional roofing contractor.
Aluminum
Like vinyl siding if there are cracks or broken pieces, the simplest thing to do is to change just the harmed parts of aluminum siding. However if you have small gaps in the siding, this may be repaired with a touch of color-matched exterior-grade caulk. Smooth it on to fill the openings and repair the siding.
The decision
The vast majority of the time siding may be repaired rather than upgraded. In the cases where siding replacement is essential, frequently just the affected boards need to be changed, and not the whole home. Only major structural issues or progressive rot that has already spread out throughout the home's outside will call for the replacement of the whole siding. Typically, change your house siding when you're up for a change and make siding repairs in a prompt method to handle other minor issues.
To learn more, do not be reluctant to get in touch with our team for a free evaluation and price quote.